We're home to some of the bossest mamas in the surrogacy industry. We're surrogates supporting surrogates. We're mamas supporting mamas (and 12% husbands supporting mamas supporting surrogates! 😉)
Founders & Experienced Surrogates
Founder & President
3x Surrogate
On a mission to take the mystery out of surrogacy.
Sunshine Hanson is a driven and pragmatic mama, 3x gestational surrogate, and co-founder of Surrogacy Is alongside her amazing husband, Kyle. (And, as you may have guessed, her story is just as unique as her ever-changing hair!)
Sunshine was a high school English teacher when she embarked on her first surrogacy journey, and she soon discovered that what the experience was lacking was both advocacy and direction.
After working for two very different agencies—she realized that every agency (like every surrogate!) is unique, but some agencies are decidedly better than others!
That's where Surrogacy Is first began.
Built on the foundations of intention and community, Sunshine and Kyle brought Surrogacy Is to life and soon partnered with Casey Bojorquez to create the team and mission that's thriving today.
Sunshine currently lives in Georgia with her family. When she's not guiding surrogates and sharing pieces of her story online, she can be found floating in the pool with her daughter or trying a new spot for brunch in Savannah!
Founder & Vice President
2x Surrogate
Everyone needs a mama, and at Surrogacy Is… that mama is Casey.
Casey Bojorquez is a big-hearted wife, mama, two-time surrogate, and both Co-Owner and Vice President of Surrogacy Is. . . which really means she's the go-to lady for anything and everything related to surrogate connection and community.
Casey joined forces with Sunshine and Kyle at the end of 2020 with the goal of providing a more comprehensive surrogate outreach and community focus to the company. Since the start of the partnership, she's shifted the entire direction of Surrogacy Is and created a space where surrogates are truly advocated for and supported—every step of the way.
When Casey's not making waves for surrogates, she can be found spending time with her family, at the beach, or trying a new hiking trail!
Founder, CEO, CMO
Husband to 3x Surrogate
(that counts, right?)
Skeptic-turned-unabashed-surrogacy-cheerleader 📣 at Surrogacy Is…
Kyle Hanson is a dedicated father, husband, and 'wizard behind-the-curtain' of everything you see at Surrogacy Is. Motivated, logical, and hardworking, Kyle is the original surrogate-skeptic-turned-biggest-advocate (and we love him for it!).
As he'll often share, he initially thought his wife, Sunshine, was crazy when she first said she wanted to be a surrogate. . . but after seeing the impact of surrogacy and the lives that were truly being changed, he was on board. And since then, he has tirelessly helped build a company that advocates for the integral part of surrogacy—the surrogates.
Kyle lives in Georgia with his incredible wife, Sunshine, their daughter, Jasmine, and their dogs, Dee Dee and Adora. When he's not putting out tech fires, creating automations, or jumping on Zoom calls with the team, he can be found telling jokes (that rarely land), on a boat cruising coastal Georgia rivers with his family or playing the drums on any available surface.
Executive Administrator
Experienced Surrogate
Cassie Brown is a wife, mom, experienced surrogate, and Executive Administrator of Surrogacy Is! She loves working with surros, sharing her personal story, and helping to provide a community built on trust. 
Cassie lives in the small town where she was raised (where everyone knows everyone and the entire town closes down on Fridays for high school football games!), and she wouldn't have it any other way. When she's not working with surrogates, Cassie can be found chasing her kids to and from their activities, woodworking, gardening, and spending every free minute with her family in the California sunshine.
Morgan is a dedicated Lead Surrogate Advocate whose main focus is helping surrogate candidates understand their goals, values, and options. 
A momma to one little girl, with another sweet baby on the way, Morgan is self-described as 'obsessed' with surrogacy. After the pursuit of her first surrogacy journey in 2021 (with the help of Surrogacy Is!), she decided she needed to put all of her knowledge about the process to good use – by advocating for other surrogates! 
Morgan is a very connection-driven individual and puts such an emphasis on creating genuine friendships with all surrogates. She is constantly inspired by the outpouring of love found within the Surrogacy Is community, both between S.I. colleagues and S.I. Surrogates alike. 
When she's not advocating for and educating hopeful surrogates, she can be found reading books, crafting, or singing on the worship team at her church!
Lead Surrogate Advocate
Experienced Surrogate
Kristina is an experienced surrogate-turned-advocate after recognizing her innate desire to support other women in her shoes. She is a married mother of 2 and will be completing a sibling journey for her second Surrogacy in 2024! 
Kristina's role at Surrogacy Is began after researching surrogacy for her own journey.  After encountering  unfriendly and unhelpful comments in the 'Wild Wild West' of Facebook groups, she found Surrogacy Is and the supportive, connected community. After relentlessly growing her understanding of surrogacy and passion for helping other surrogates, she leapt at the opportunity to join the team at Surrogacy Is. And to this day, feels like her position as an advocate was MADE for her!
Kristina resides in Las Vegas, Nevada and when she's not commenting in Facebook groups or leading empowering conversations with other surros, she can be found adventuring out of the house with her kiddos, shopping at her favorite places for the best deals, or trying out a new local spot to sate her appetite for good food!
Surrogate Advocate
3x surrogate
Ashley is a loving mom of two sweet boys, 3x surrogate, and currently working on her 4th journey! She first heard about surrogacy through her friends and immediately knew it was something she wanted to do. Little did she know where it would lead her. . . to an incredible position at Surrogacy Is!
Ashley loves meeting people, guiding first-time surrogates and experienced surrogates on their journeys, and being an advocate. When she's not working, she can be found coaching her son's soccer team, at her yoga class, enjoying nature with her littles, or spending some time with her friends.
Surrogate Advocate
Experienced Surrogate
Sam is an experienced surrogate, mother of 3, and part-time prenatal and kids yoga, mindfulness, & holistic wellness guide. She is devoted to creating a loving space for others in any and all of the work she does. 
The joy Sam found as a result of carrying and witnessing the moment her intended parents and surro baby became a family motivated her to research ways to continue to be a part of the magic of surrogacy. . . and through that research she found Surrogacy Is! 
Her commitment as a Surrogate Advocate is to empower women with knowledge and support throughout their surrogacy journeys and to authentically nurture the connections they create together. Due to the lack of agency advocacy in her own surrogacy journey, she holds a deep desire to create what she longed for— and what Surrogacy Is provides for other women. She is dedicated to making sure women exploring surrogacy feel fully supported and inspired.  
When Sam's not supporting families and women, you can find her wilderness foraging, hiking, volunteering at animal shelters, writing her children's books, cooking up delicious vegan food in the kitchen, or, of course, simply being a mama bear to her busy cubs!
Surrogate Advocate
3x surrogate
Stephanie is a momma to two beautiful babies—and at one point in her early life she thought she, herself, would need a surrogate to conceive. After having a surprise pregnancy with her daughter, and an uncomplicated pregnancy with a smooth delivery, she knew she wanted to help another family. 
Stephanie holds surrogacy close and dear to her heart. Her first two journeys were beautifully amazing (and she wouldn't change anything about them!), but she didn't have an advocate in her corner. She had her third journey with Surrogacy Is. . . and this made all the difference! After having three beautiful journeys she is eager to start her fourth journey in 2023! And as a Surrogate Advocate, help others in their journeys, too. 
As someone who once thought she would need a surrogate herself.  . . to now being a 3x surrogate  and an advocate for surrogacy, she loves  to share the beautiful journey of surrogacy with others. 
Outside of her work with Surrogacy Is, Stephanie enjoys going to the beach, shopping, taking her kids to the zoo, and spending time with her parents.
Surrogate Advocate
Experienced Surrogate
Grace is an energetic experienced surrogate and Surrogate Advocate. Bios take a lot of thought and consideration to write, so stand by, there'll be more to come!
Surrogate Outreach Specialist
Experienced Surrogate
Megan is a dedicated, loving, and hardworking mother whose main goal in life has always been to help others in every way she could. With her degree in psychology and a background in social work, she strives for people to feel safe with and around her.
After having her first child, she discovered Surrogacy Is and realized that there was nothing more loving and empowering she could do for someone else than to give them the gift of parenthood.  Megan completed her first surrogacy journey in May of 2022, delivering a beautiful baby girl to amazing parents. Now she's matched with her new agency, and just matched with a new set of intended parents! 
After becoming a surrogate, Megan knew that the missing piece she had been searching  for was right in front of her—that's why she became a Surrogate Outreach Specialist–working with other women, and empowering them through their own journeys! And she couldn't be happier. 
Outside of her work, Megan loves to spend time with her family, test out new recipes, escape in a good book, or obsess over the show Surivor (which she hopes to be on one day!)
Agency Options Advisor
experienced surrogate
Jade is a mama, a wife to her highschool sweetheart, and considers herself  an 'old soul' (aka: her Spotify consists of 70s-90s jams only). 
She is an experienced surrogate who fell so in love with her journey that she decided she wanted to stay in the world of surrogacy long after her own story ended.  When she came across an ad for Surrogacy Is on Instagram, she decided to reach out. . . and the rest is history!
Now she is an Agency Options Advisor at Surrogacy Is and gets to deliver great news to potential surrogates about agencies that want to work with them. She's hoping to start her second journey soon, too,  and who better to help with that than Surrogacy Is!
Born and raised in Los Angeles, California, Jade loves going to the beach, spending time with her husband and son, listening to music, and binging trash reality TV shows.
Meaghan has a long history as a Third Party Coordinator and surrogate, and she brings a wealth of knowledge and experience to Surrogacy Is… Bios take a lot of consideration and time to write, so more to come soon!
Surrogate Intake Specialist
Ashley is awesome. Bios take a lot of consideration and time to write, so more to come soon!
Video Marketing Specialist
Alex is a passionate photographer and video editor, and alongside his wife, Ivanna, brings a keen eye for detail to all of the video content for Surrogacy Is!
As a Video Marketing Specialist (with a background in Information Technology), Alex brings precision, logic, skill into his video content. He doesn't just create videos; he tells stories. 
Outside of his work for Surrogacy Is, Alex is a prolific photographer in Lexington, KY, helping families and individuals discover their own beauty and document their lives. He also mixes a mean cocktail. . . but his lattes are the real deal! If he ever offers to fix you a drink, cocktail, coffee, or otherwise, you'd be wise to say yes!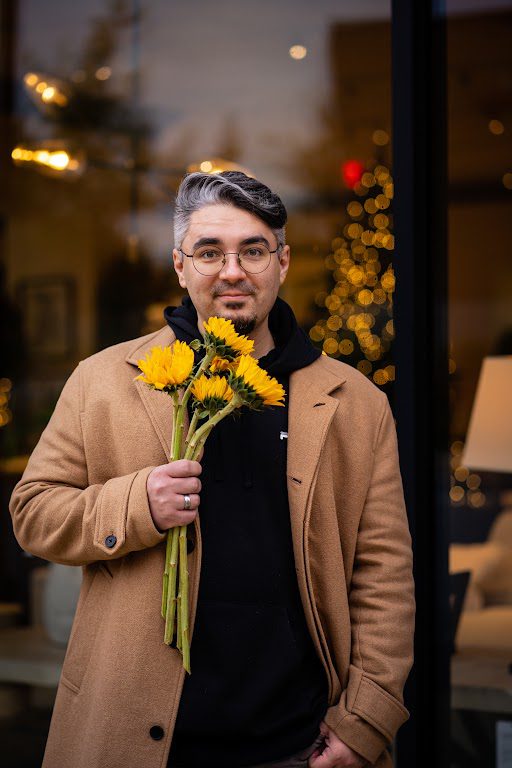 Digital Marketing & Social Media Specialist
Ivanna brings a sharpness, passion, and a strong work ethic to the Surrogacy Is team! She has a background in service management, but soon discovered her true passion is far more creative. As a Digital Marketing and Social Media Specialist, Ivanna maps and builds out all of the social media content for Surrogacy Is, coordinates and guides Ambassadors, and cracks the whip on Sunshine to keep the Reels, TikTok, and YouTube Shorts coming.
She also works alongside her amazing husband, Alex, to interview both Surrogates and Intended Parents who generously share their stories with us! 
Outside of her work for Surrogacy Is, Ivanna is passionate about animal and human rights, loves photographing people and exploring new cities, and is an incredible full-time plant mama, with a green thumb like you wouldn't believe! Her dream is to have a small farm one day where she can grow her own food and give a home to rescued animals.
Scroll & click to view our real surrogate stories.
You may not realize it, but your body's ability to create a healthy baby AND bring it into the world isn't just amazing — it's rare.
You may not have felt special as you struggled to see your feet and you stopped fitting into your bras, but we promise: you really are so, so freaking special.
And we need moms just like you to bring joy to a family in the making and to your family as well.
Never once have I felt like a number. I feel like they genuinely care about me and that we have been creating friendships.
In the initial first steps They focus on whether or not it truly is a good fit for you to be a surrogate and do not try to force anything.
Casey has played an integral role in my surrogacy journey. She advocates fearlessly for surrogates!
This is a very good organization that provides a further layer of support and protection through your surrogacy journey.
From the first conversation, Casey has been so helpful, so informative, so supportive.
The community is full of women on all stages of their surrogacy journey and it is an amazing community that has been built by the wonderful women of Surrogacy Is.
I was so confused on many different logistics with surrogacy, compensation, and how it worked getting matched. All of my questions were answered before I was matched with an amazing credible agency that truly has my best interest in mind.
Provides all the support and education you need to make informed decisions when it comes to surrogacy
Casey has been the biggest blessing. She's guided me in the direction I need to go, answered all my questions and really cared about my wants when looking for an agency.
Casey and Sunshine are the absolute best! They are extremely supportive of all of us no matter what stage of our journey we're in.
Check out more stories on Insta!