We're home to some of the bossest mamas (and one papa) in the surrogacy industry. 


Founder & President
3x Surrogate
On a mission to take the mystery out of surrogacy.
Sunshine Hanson is a driven and pragmatic mama, 3x gestational surrogate, and co-founder of Surrogacy Is alongside her amazing husband, Kyle. (And, as you may have guessed, her story is just as unique as her ever-changing hair!)
Sunshine was a high school English teacher when she embarked on her first surrogacy journey, and she soon discovered that what the experience was lacking was both advocacy and direction.
After working for two very different agencies—she realized that every agency (like every surrogate!) is unique, but some agencies are decidedly better than others!
That's where Surrogacy Is first began.
Built on the foundations of intention and community, Sunshine and Kyle brought Surrogacy Is to life and soon partnered with Casey Bojorquez to create the team and mission that's thriving today.
Sunshine currently lives in Georgia with her family. When she's not guiding surrogates and sharing pieces of her story online, she can be found floating in the pool with her daughter or trying a new spot for brunch in Savannah!
Founder & Vice President
2x Surrogate
Everyone needs a mama, and at Surrogacy Is… that mama is Casey.
Casey Bojorquez is a big-hearted wife, mama, two-time surrogate, and both Co-Owner and Vice President of Surrogacy Is. . . which really means she's the go-to lady for anything and everything related to surrogate connection and community.
Casey joined forces with Sunshine and Kyle at the end of 2020 with the goal of providing a more comprehensive surrogate outreach and community focus to the company. Since the start of the partnership, she's shifted the entire direction of Surrogacy Is and created a space where surrogates are truly advocated for and supported—every step of the way.
When Casey's not making waves for surrogates, she can be found spending time with her family, at the beach, or trying a new hiking trail!
Founder, CEO, & CMO
Husband to 3x Surrogate (that counts, right?)
Skeptic-turned-unabashed-surrogacy-cheerleader 📣 at Surrogacy Is…
Kyle Hanson is a dedicated father, husband, and 'wizard behind-the-curtain' of everything you see at Surrogacy Is. Motivated, logical, and hardworking, Kyle is the original surrogate-skeptic-turned-biggest-advocate (and we love him for it!).
As he'll often share, he initially thought his wife, Sunshine, was crazy when she first said she wanted to be a surrogate. . . but after seeing the impact of surrogacy and the lives that were truly being changed, he was on board. And since then, he has tirelessly helped build a company that advocates for the integral part of surrogacy—the surrogates.
Kyle lives in Georgia with his incredible wife, Sunshine, their daughter, Jasmine, and their dogs, Dee Dee and Adora. When he's not putting out tech fires, creating automations, or jumping on Zoom calls with the team, he can be found telling jokes (that rarely land), on a boat cruising coastal Georgia rivers with his family or playing the drums on any available surface.
Surrogacy Program Director
Marin is a full of energy type of gal with a passion for building families through surrogacy. Her heart is happy being a part of the surrogacy journeys from the first call from an intended parent to the birth of the baby…and always enjoys visiting at delivery for those baby snuggles. Finding the right match for both the surrogate and intended parent is what gives her the most joy and fulfillment in her role as the Surrogacy Program Director.
Marin's background previous to surrogacy was working as a recruiter/headhunter which also allowed her to do what she loves best and meet and talk to people around the world. She joined the industry years ago with a family friend and worked her way into a Director position. She has also worked on the IFV clinic side with egg donors, surrogates, and parents.
She feels a personal connection to both the surrogates and parents due to her own struggle with fertility which lead her to the adoption of her son Aden. Seven years later she was blessed with her own pregnancy of her daughter Amelia. She was a single mother for more than seven years before meeting her soulmate and Fiancé Mike who has completed her little family.
When Marin isn't busy on video calls meeting intended parents and making the perfect match… her nickname has been the "Matchmaker" you can find her on the soccer field as her kids biggest fan! If not on the field, she could be found in the mountains exploring dirt roads and connecting with nature.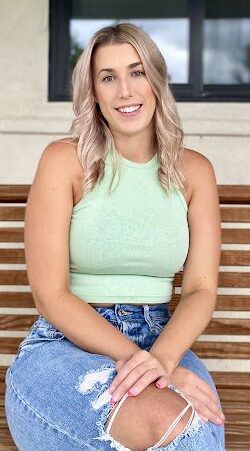 Operations Manager
2x Experienced Surrogate
Breana is as much a dedicated professional as she is a family-loving mama. She's a two-time surrogate, a wife, and a mom to two boys, plus her troublemaking puppy Copper who's almost like a third child.
Breana started her family young and soon realized she could help others become parents too. Her journey as a surrogate in 2013 and 2016 was a deeply rewarding experience that led her into the surrogacy field professionally. She began at an agency, working her way up from intake to become a supervisor, thanks to her commitment and hard work.
Her passion for surrogacy led her to take on a new challenge as an Operations Manager at a busy fertility clinic. Seeking a more hands-on role, she eventually moved into the medical side as an IVF coordinator. For three fulfilling years, she was directly involved in the process of assisted reproduction, deepening her appreciation for surrogacy.
Outside of work, Breana cherishes her time with family. Whether it's a peaceful day tubing on the river or a dusty trail ride on the quads in the desert, she enjoys making memories with her boys and Copper. Breana embodies a wonderful balance of professional dedication and a joyful family life.
Advocacy Program Manager
Experienced Surrogate
Kristina is an experienced surrogate-turned-advocate after recognizing her innate desire to support other women in her shoes. She is a married mother of 2 and will be completing a sibling journey for her second Surrogacy in 2024! 
Kristina's role at Surrogacy Is began after researching surrogacy for her own journey.  After encountering  unfriendly and unhelpful comments in the 'Wild Wild West' of Facebook groups, she found Surrogacy Is and the supportive, connected community. After relentlessly growing her understanding of surrogacy and passion for helping other surrogates, she leapt at the opportunity to join the team at Surrogacy Is. And to this day, feels like her position as an advocate was MADE for her!
Kristina resides in Las Vegas, Nevada and when she's not commenting in Facebook groups or leading empowering conversations with other surros, she can be found adventuring out of the house with her kiddos, shopping at her favorite places for the best deals, or trying out a new local spot to sate her appetite for good food!
Advocacy Program Manager
1st Surrogacy Journey
Morgan is a dedicated Lead Surrogate Advocate whose main focus is helping surrogate candidates understand their goals, values, and options. 
A momma to one little girl, with another sweet baby on the way, Morgan is self-described as 'obsessed' with surrogacy. After the pursuit of her first surrogacy journey in 2021 (with the help of Surrogacy Is!), she decided she needed to put all of her knowledge about the process to good use – by advocating for other surrogates! 
Morgan is a very connection-driven individual and puts such an emphasis on creating genuine friendships with all surrogates. She is constantly inspired by the outpouring of love found within the Surrogacy Is community, both between S.I. colleagues and S.I. Surrogates alike. 
When she's not advocating for and educating hopeful surrogates, she can be found reading books, crafting, or singing on the worship team at her church.
Surrogate Advocate
3x surrogate
Ashley is a loving mom of two sweet boys, 3x surrogate, and currently working on her 4th journey! She first heard about surrogacy through her friends and immediately knew it was something she wanted to do. Little did she know where it would lead her. . . to an incredible position at Surrogacy Is!
Ashley loves meeting people, guiding first-time surrogates and experienced surrogates on their journeys, and being an advocate. When she's not working, she can be found coaching her son's soccer team, at her yoga class, enjoying nature with her littles, or spending some time with her friends.
Surrogate Advocate
Experienced Surrogate
Vanessa has been married to her high school sweetheart for 11 years. She is a momma to 2 amazing kiddos and 3 fur babies. 
At a very young age, Vanessa knew she wanted to become a mother and this quickly became the most important part of her life when she delivered her daughter as a teen mom. After being able to conceive and deliver her children so easily, she started hearing more and more stories of other people who were struggling to get pregnant or unable to successfully carry to full term. This absolutely broke her heart.
In 2013, at a Thanksgiving dinner, her aunt introduced her to the idea of surrogacy by sharing stories of her 3 journeys. This is what would lead to a beautiful delivery of twin boys in 2016. The ending was absolutely perfect with the boys being born on Father's day to their wonderful daddies! Vanessa has always dreamed of being able to help another family, but life has other plans and she has not completed another journey – yet! She absolutely adores helping other women through the process as a Surrogate Advocate and staying involved by attending local meet-ups and being active in facebook groups.
In her free time, she enjoys going to the lake, antique hunting with her daughter, watching Netflix and going on adventures with her husband!
Surrogate Advocate
Experienced Surrogate
Cheri is a dedicated and affectionate Solo Mama of 2 beautiful girls and a handsome Bengal kitty named Ramses. Cheri labels herself as a Birth & Breastfeeding Nerd. She freebirthed her second daughter in 2018 and immersed herself into birth work shortly after as a Birth + Postpartum Doula to support other women having informed birth experiences. In 2021, she decided to pursue surrogacy and matched with an amazing family. She birthed their baby boy in March 2023 and immediately knew she'd happily do it all over again. In the meantime, she found herself wanting to stay involved in the surrogacy world and found her tribe at Surrogacy Is! She is currently in the process of choosing an agency for her second journey!
In her off-time, she loves spending time with her family and close-friends, going to the beach, and spending time in nature with her girls. She also loves to play Wordle daily (a passion her and her IPs from her first journey share together), and loves to do 2000+ pieces jig-saw puzzles.
Surrogate Advocate
Experienced Surrogate
Courtney is married to her husband, Michael for 17 years. He is in the military so they travel often either with the military or for fun! They have 2 girls and 2 furbabies!
Courtney is a 1x experienced surrogate and loved the journey so much. She is on her 2nd journey waiting for a match! She has always loved helping others and giving what she can to ensure everyone is happy! She knew quickly after her first surrogacy journey started she was hooked and wanted to help everyone she could learn more about surrogacy. After having her girls she knew she was done with her family and couldn't wait to help someone start theirs. Giving a baby to someone is life changing and something she is so glad to have been able to experience. She started her first journey hoping to help a close family friend, but it didn't work out and that lead her to find her IP and form a life long addition to her family. She delivered her first surrogate baby in Nov 2022, and has since then started to work towards her 2nd journey!
Courtney is constantly on the move and loves doing almost anything! She is always up for a new adventure and enjoys new things whether it is traveling, trying a new restaurant or helping someone! She enjoys all the places and travels the military has taken her and is so thankful for the life they have!
Courtney has a degree in psychology and sociology. Her passion is to always help whenever and wherever you can!
She is so thankful to have found Surrogacy IS and have the opportunity to reach out and help other women have the joy she had during her surrogacy journey!
Surrogate Advocate
Experienced Surrogate
Justice is located on the Mississippi Gulf Coast and is a loving Mama of one, married to her high school sweetheart going on ten years. With two completed journeys, and embarking on her third, she has found such a passion and love for the surrogacy community.
Justice has a genuine desire to provide exceptional care to every person she comes in contact with- and strives to make meaningful connections with those around her. She believes every interaction is an opportunity to make someone feel heard, valued, and understood.
When she isn't supporting surrogates on their journey she can usually be found doing DIY projects at home. Painting walls, building custom closets, or putting up wallpaper- anything to make her house feel more like a home. Justice also loves geocaching with her family and exploring new places since recently moving to the South.
Justice is so excited to share her love of surrogacy to hopeful surrogates and beyond thrilled to be in this amazing and beautiful community.
Surrogate Advocate
Experienced Surrogate
Hi, I'm Nohemi, a two-time surrogate based in sunny San Diego, California. As a single mom of two teenagers, family is at the heart of everything I do. Since highschool I have always been passionate about surrogacy and how it has helped so many families.
With ten years of experience as a legal assistant, I've honed my skills in a fast-paced and detail-oriented environment. Now, I'm excited to leverage that experience to work with future surrogates, guiding and educating them every step of the way in their journeys.
When I'm not immersed in the world of surrogacy, you'll find me relaxing at home listening to music, enjoying the vibrant scene at great concerts, exploring thought-provoking documentaries, collecting inspiration from pinterest and tik tok for my next lunch or dinner ideas, staying connected with my family and friends through social media.
I look forward to connecting with you and being part of these incredible journeys!
Surrogate Advocate
Experienced Surrogate
Tiffany's bio coming soon!
Agency Options Advisor
Experienced Surrogate
Megan is a dedicated, loving, and hardworking mother whose main goal in life has always been to help others in every way she could. With her degree in psychology and a background in social work, she strives for people to feel safe with and around her.
After having her first child, she discovered Surrogacy Is and realized that there was nothing more loving and empowering she could do for someone else than to give them the gift of parenthood.  Megan completed her first surrogacy journey in May of 2022, delivering a beautiful baby girl to amazing parents. Now she's matched with her new agency, and just matched with a new set of intended parents! 
After becoming a surrogate, Megan knew that the missing piece she had been searching  for was right in front of her—that's why she became a Surrogate Outreach Specialist–working with other women, and empowering them through their own journeys! And she couldn't be happier. 
Outside of her work, Megan loves to spend time with her family, test out new recipes, escape in a good book, or obsess over the show Surivor (which she hopes to be on one day!)
Surrogate Outreach Specialist
Experienced Surrogate
Ash is a 1x surrogate and a loving, silly, and motivated momma to two rowdy boys. She has been married to her husband Ryan for 15 years ( not high school sweethearts, they actually met white water rafting).
She found surrogacy after close family struggled with infertility so she began researching, and there was no looking back! She delivered a perfect little one in May 2023, to the most wonderful parents. She was so thankful to have Surrogacy Is during her own journey, and really appreciated the support and empowerment that she received throughout. So, she was ecstatic to join the Surrogacy Is team and be able to help others in their journeys.
When she's not having conversations about surrogacy; she is usually hiking with her family, attempting a new hobby, or kayaking around the lake.
Surrogate Outreach Specialist
Experienced Surrogate
Christine is a devoted wife to her husband, (high school sweetheart) Ryan, and loving mother of their two adorable kids, Logan & Brody. Being a 2x surrogate, Christine knows that no two journeys are the same when growing a family. Layered by family, love and inspiration, Christine aims to provide comfort and motivation for surrogates and families along their journey to growing a family. On the weekends you can find Christine in the roll of "Team Mom" in all her children's sports, DIYing, crafting or baking with the family.
Journey Coordinator
Licensed Midwife
Heather Smith is a resident of the Shenandoah Mountains in Virginia. She is a licensed midwife and a mother of four. Heather believes that her calling lies in helping families grow. With an unwavering passion for creating and nurturing families, Heather has truly found her calling in both midwifery and supporting families throughout their surrogacy experience.
Heather's journey into the world of surrogacy was sparked by her own experiences as a midwife and her understanding of the diverse ways families are formed. It is an absolute joy to be able to walk alongside families and offer support as they grow. She is planning her first surrogacy journey for 2024.
When Heather is not supporting intended parents and surrogates or catching babies, she loves to spend time with her family. In her downtime she can almost always be found with a good book. She is passionate about education and teaches childbirth classes monthly in her community.
Journey Coordinator
Licensed Social Worker
Ann Wieczorek resides in the Chicago, Illinois area and is a Licensed Social Worker who has worked in family building since 2004.
Ann began her career in the adoption field working with all members of the adoption triad; birth parents, adoptees and adoptive parents. Being involved in helping families come together inspired her to want to help build families in another way: surrogacy! Ann had a wonderful surrogacy journey, delivering her tummy buddy in 2015. The experience was so positive and wonderful that Ann knew that she wanted to work with other women considering a surrogacy journey.
Ann has worked in surrogate screening and match management and is so excited to have joined the Surrogacy Is team where she hopes to help others have the same positive surrogacy experience she had.
Ann likes to think of herself as a cheerleader for however people choose to grow their families; whether it be with the help of an egg donor, sperm donor, embryo donor, or gestational surrogate or through adoption or foster care. Ann's opinion is there is no one right way to be a family and what is right for one person/couple may not be right for another.
Outside of her work, Ann is a busy mom of three children who spends most of her time at her kid's baseball, flag football and dance team events. She also enjoys weight training and yoga, reading, daily meditation and date nights with her hubby.
One of Ann's goals is to obtain a Perinatal Mental Health Certification, which she hopes to put to use in her work at Surrogacy Is in the future.
Journey Coordinator
4x Experienced Surrogate
Stormy Chapman, a devoted mother of two, stands as a beacon of compassion and expertise within the realm of surrogacy. With an impressive track record of successfully completing four surrogacy journeys for intended parents both in the United States and overseas, Stormy embodies warmth and empathy in her approach to connecting people.
Her journey in Surrogacy Intake and Surrogacy Case Management has been marked by a deep-seated passion for aiding new surrogates on their path. Holding a license as a Psychiatric Technician since 2000, Stormy's career boasts extensive experience working with diverse populations. She had the honor of spearheading the opening of a dual diagnosis teen unit and serving as a charge nurse in a private mental health facility.
Originally hailing from Southern California, Stormy relocated to Virginia in 2016, where she resides happily with her loving husband, children, a cheerful cockapoo puppy, and an affectionate white Persian kitty. Beyond her professional pursuits, she finds joy in simple pleasures like coffee, shopping, and solving puzzles. An active licensed foster parent, Stormy remains deeply committed to supporting families and children within her community.
Her unwavering dedication to the well-being of others, combined with her wealth of experience, makes Stormy Chapman an invaluable asset to the Surrogacy Is family.
Journey Project Manager
Experienced Surrogate
Alicia is a dedicated mom of two boys, and an avid supporter of their sports endeavors, particularly football and baseball. You'll often find her on the sidelines and the practice field, offering spirited encouragement and sharing in their wins! She even helps coach occasionally. Her passion doesn't stop at the sports field. She's a culinary enthusiast, creating healthy and delicious meals that even her kids can't resist. They live in the beautiful Pacific Northwest and try to take advantage of the beaches and mountains being so close as often as they have time to go explore. Their dog is like the 3rd child in the family and being part hound, she has long goofy ears!
Her journey into surrogacy began after experiencing the profound joy of parenthood herself. The desire to give the gift of a new life to another parent ignited within her, leading to not one but two surrogacy journeys in 2022 and 2023. And hopefully more to follow! These life changing journeys brought so much joy and purpose into Alicia's life that she continues to immerse herself in all things surrogacy as often as she can. Whether it is talking about it to people who are curious and properly educating them on what to expect or even responding in social media groups and sharing her experience when others may have questions. She loves to be a guiding light when people need it. Surrogacy has become more than just a journey; it's her calling, a cause she holds close to her heart.
With over a 10+ years of experience in client services and project management and working with Fortune 500 companies, she possesses a unique talent for ensuring everyone is well taken care of and things run smoothly. She is eager and excited to be on the team at Surrogacy Is while passionately sharing her skills and dedication in the surrogacy community.
Surrogate Intake Manager
Experienced Surrogate
Surrogate Intake Specialist
 Experienced Surrogate
Grace is a one time experienced surrogate, a wife, and mother of two beautiful babies. Grace stumbled into surrogacy almost by accident and after much research she fell in love with the idea that she would be able to help another family receive one of the most beautiful things in the world: a baby. The connection she had with her intended parents was a wonderful gift that continues to this day. After that journey ended, Grace knew she wanted to be a part of surrogacy at a deeper level and left her medical field job to pursue a career in surrogacy. Finding Surrogacy Is was like finding the jackpot! Grace is ecstatic to be a little part of other women's surrogacy journey and support them every step of the way.
When Grace isn't busy being a Surrogate Advocate, she enjoys spending time with her family in the beautiful countryside of Texas. Hiking, camping, and doing anything outdoors is always a family favorite. 
Surrogate Intake Specialist
Experienced Surrogate, Doula
Crystal's bio coming soon
Surrogate Intake Specialist
Matching Manager
Licensed Professional Counselor
Matching Coordinator
Intended Parent
Kasha lives in a small town in Arizona with her husband and son. Kasha's own infertility journey and walking down the path of an Intended Parent led her to change careers and set out on a mission to serve the infertility community.
Kasha's passion is serving every intended parent with empathy and compassion. Understanding that every journey to parenthood is different and needs a unique touch. She has studied psychology as well as yoga and breath work allowing her to blend principles into her every parent interaction.
When Kasha is not working with Intended Parents, you can find her spending time with her family, reading a fantasy novel or hosting women's yoga and breath work retreats in Sedona and Costa Rica.
IP Onboarding Specialist
Experienced Surrogate
Cassie Brown is a wife, mom, experienced surrogate, and Executive Administrator of Surrogacy Is! She loves working with surros, sharing her personal story, and helping to provide a community built on trust. 
Cassie lives in the small town where she was raised (where everyone knows everyone and the entire town closes down on Fridays for high school football games!), and she wouldn't have it any other way. When she's not working with surrogates, Cassie can be found chasing her kids to and from their activities, woodworking, gardening, and spending every free minute with her family in the California sunshine.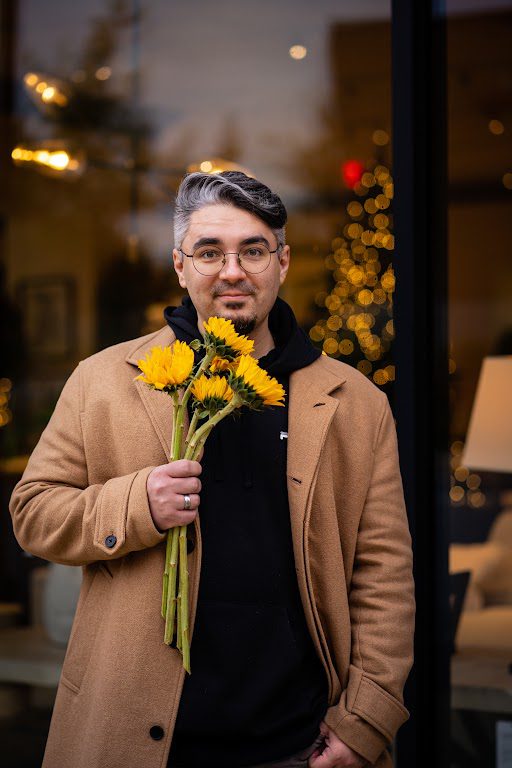 Video Marketing Specialist
Alex is a passionate photographer and video editor, and alongside his wife, Ivanna, brings a keen eye for detail to all of the video content for Surrogacy Is!
As a Video Marketing Specialist (with a background in Information Technology), Alex brings precision, logic, skill into his video content. He doesn't just create videos; he tells stories. 
Outside of his work for Surrogacy Is, Alex is a prolific photographer in Lexington, KY, helping families and individuals discover their own beauty and document their lives. He also mixes a mean cocktail. . . but his lattes are the real deal! If he ever offers to fix you a drink, cocktail, coffee, or otherwise, you'd be wise to say yes!
Marketing Project Manager
Ivanna brings a sharpness, passion, and a strong work ethic to the Surrogacy Is team! She has a background in service management, but soon discovered her true passion is far more creative. As a Digital Marketing and Social Media Specialist, Ivanna maps and builds out all of the social media content for Surrogacy Is, coordinates and guides Ambassadors, and cracks the whip on Sunshine to keep the Reels, TikTok, and YouTube Shorts coming.
She also works alongside her amazing husband, Alex, to interview both Surrogates and Intended Parents who generously share their stories with us! 
Outside of her work for Surrogacy Is, Ivanna is passionate about animal and human rights, loves photographing people and exploring new cities, and is an incredible full-time plant mama, with a green thumb like you wouldn't believe! Her dream is to have a small farm one day where she can grow her own food and give a home to rescued animals.
Social Media Manager
Experienced Surrogate
Sam is an experienced surrogate, mother of 3, and part-time prenatal and kids yoga, mindfulness, & holistic wellness guide. She is devoted to creating a loving space for others in any and all of the work she does. 
The joy Sam found as a result of carrying and witnessing the moment her intended parents and surro baby became a family motivated her to research ways to continue to be a part of the magic of surrogacy. . . and through that research she found Surrogacy Is! 
Her commitment as a Surrogate Advocate is to empower women with knowledge and support throughout their surrogacy journeys and to authentically nurture the connections they create together. Due to the lack of agency advocacy in her own surrogacy journey, she holds a deep desire to create what she longed for— and what Surrogacy Is provides for other women. She is dedicated to making sure women exploring surrogacy feel fully supported and inspired.  
When Sam's not supporting families and women, you can find her wilderness foraging, hiking, volunteering at animal shelters, writing her children's books, cooking up delicious vegan food in the kitchen, or, of course, simply being a mama bear to her busy cubs!
Residing in St. Louis, MO with her husband and two young children, Marissa is a one-time experienced surrogate with a passion for design.
While still attending a university for Computer and Multimedia Graphics, she took it upon herself to chase after her dreams of being a graphic designer for MTV's The Buried Life, boldly approaching them with the request after a 24+ hour drive across the country to meet them. There's something to be said about making things happen for yourself!
Since that day, Marissa has been blessed with the opportunity to create graphics for some of the country's most prominent and influential faces and shows, including Justin Bieber, Jamie Lee Curtis, Darren Criss, Kygo, Tori Kelly, Scooter Braun, @atticuspoetry, Letterkenny, and of course The Buried Life, and has crafted artwork for businesses such as Target, Space X, Winc, My Hand In Yours, Inkbox, Spiritual Gangster, and Life is Good.
With a great amount of experience in the publishing space, Marissa has designed the cover of not one, but five books, two of which are New York Times Best Sellers. She even recently designed a book in its entirety from cover to cover for the very first time. Accomplishment!
After a successful embryo transfer in July of 2023, Marissa knew that she wanted to shift her career focus to the surrogacy world. One unexpecting day she saw a job listing for Surrogacy Is, and the rest is history! Marissa could not be more thrilled to finally be combining her love of digital design with her passion for surrogacy.
Scroll & click to view our real surrogate stories.
You may not realize it, but your body's ability to create a healthy baby AND bring it into the world isn't just amazing — it's rare.
You may not have felt special as you struggled to see your feet and you stopped fitting into your bras, but we promise: you really are so, so freaking special.
And we need moms just like you to bring joy to a family in the making and to your family as well.
Never once have I felt like a number. I feel like they genuinely care about me and that we have been creating friendships.
In the initial first steps They focus on whether or not it truly is a good fit for you to be a surrogate and do not try to force anything.
Casey has played an integral role in my surrogacy journey. She advocates fearlessly for surrogates!
This is a very good organization that provides a further layer of support and protection through your surrogacy journey.
From the first conversation, Casey has been so helpful, so informative, so supportive.
The community is full of women on all stages of their surrogacy journey and it is an amazing community that has been built by the wonderful women of Surrogacy Is.
I was so confused on many different logistics with surrogacy, compensation, and how it worked getting matched. All of my questions were answered before I was matched with an amazing credible agency that truly has my best interest in mind.
Provides all the support and education you need to make informed decisions when it comes to surrogacy
Casey has been the biggest blessing. She's guided me in the direction I need to go, answered all my questions and really cared about my wants when looking for an agency.
Casey and Sunshine are the absolute best! They are extremely supportive of all of us no matter what stage of our journey we're in.
Check out more stories on Insta!